An extraordinary amount of history is packed within the pages of the Bible. Scripture, however, doesn't read like a novel. In fact, many of the sixty-six books in the Bible were recorded by different authors, and their stories actually overlap. While beneficial for substantiating facts, this approach can leave us chronologically confused as we read through from cover to cover.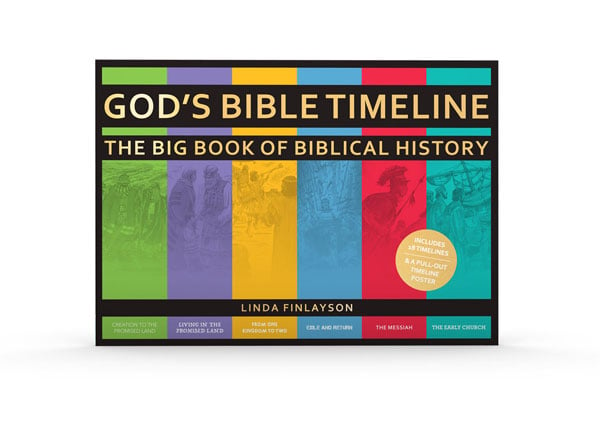 God's Bible Timeline: The Big Book of Biblical History helps us understand the flow of biblical history from creation to the formation of the early church through a series of eighteen colorful timelines. Each timeline provides a concise overview of the highlights of a particular period—from creation to the flood, for example, or from Abraham to Joseph, or from John the Baptist to Jesus' ministry, just to name a few. There's even a helpful key that makes it easy to track God's covenants with His people, the kings and prophets, and, most importantly, the Messiah, from promise to fulfillment.
Between each two-page timeline, God's Bible Timeline includes brief narratives with fun facts, bright illustrations, and simple charts and maps to make the Bible come alive for even the youngest readers. View the layout for the tabernacle or the temple's floor plan, or get a better grasp of the geographical context as you follow the path of Jesus' ministry or Paul's missionary journeys.
Written with young readers in mind, God's Bible Timeline is a reliable tool for parents, pastors, and Sunday school teachers as they engage with children. But it's also a wonderful supplement to any Bible study. Even adults will benefit from this quick reference as it helps us fit together all the historical pieces of God's amazing redemption plan.
Well-organized and visually inviting, God's Bible Timeline makes a great resource for explaining Scripture to young and old alike.

Look Inside: